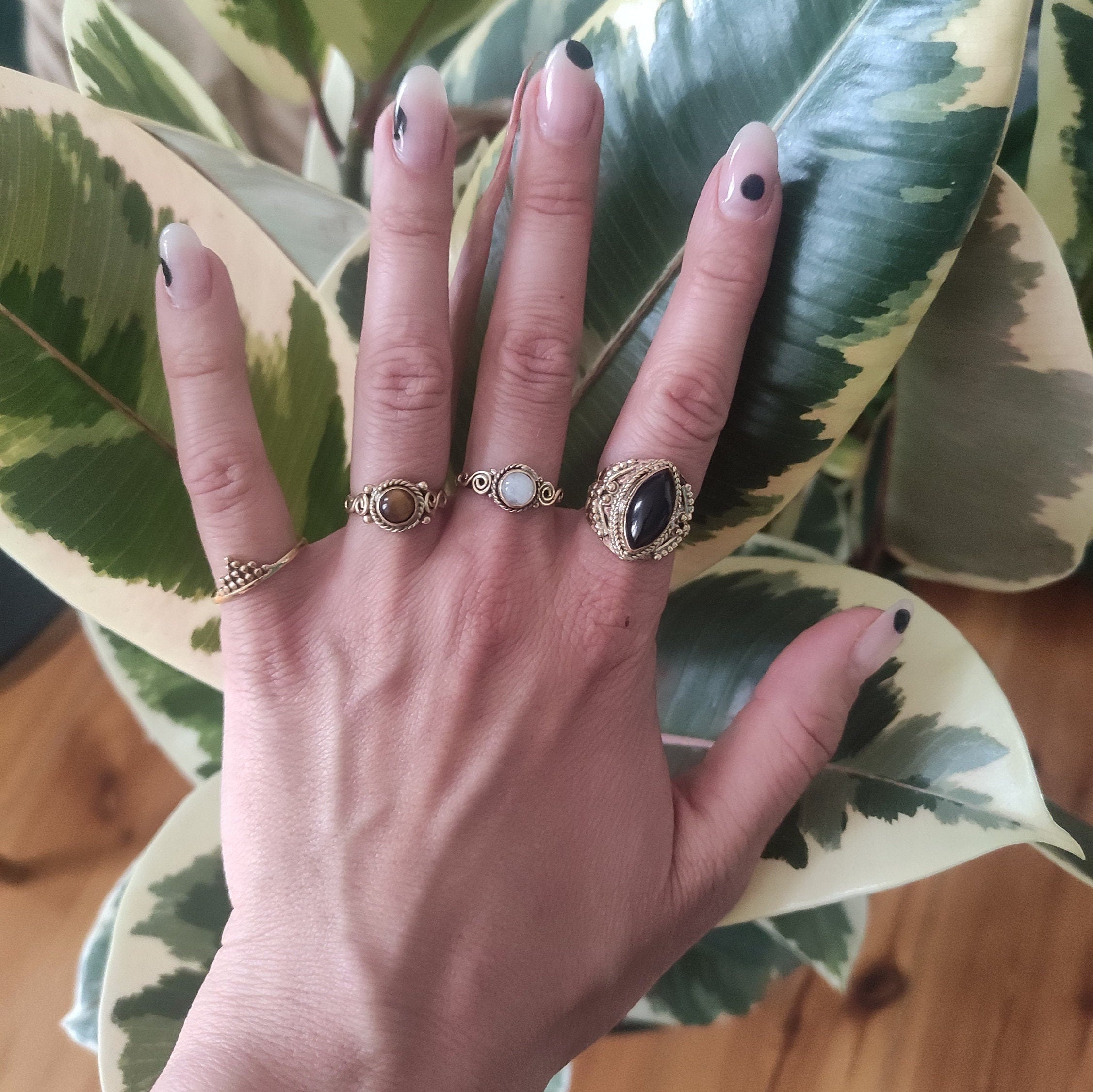 Moonstone ring with a round stone, playfully handmade
Sale price

$23.00
Regular price
(/)
---
This graceful moonstone ring with a round stone is stylish, playful and unique - the perfect eye-catcher! Handcrafted in a timeless and elegant vintage design, this beautiful piece of jewelry has a round stone that is reminiscent of the moonlight with its white/bluish shimmer. The fine details and the playful craftsmanship make the ring particularly harmonious and incomparably beautiful.
All of our pieces are handmade. This is what makes our jewelry so unique. Because of this, they may have small differences.
The material retains its color and leaves no traces on the skin.
Nickel free. Suitable for allergy sufferers.
If you don't know your ring size, scroll down.
Waterproof!
If the piece of jewelery is not worn, it may tarnish. Brushing the jewelry with toothpaste will make it shine again.
The stone is a moonstone, they differ in color and shape.
If you have any questions, please write to me at any time.
Eve
°°°OUR STONES
A gem is like a fingerprint - no two are the same. In addition, the energetic natural materials support the wearer. Here you can find out what effect the different stones have.
Moonstone
The moonstone is the birthstone of the zodiac sign Pisces or Cancer. It strengthens both the psyche and the menstrual cycle of women. It sharpens intuition and intensifies feelings and empathy. The moonstone is a white stone with black inclusions. It owes its name to its shimmer, reminiscent of moonlight.
*** RING SIZE
the best way to find out your ring size is to have it determined by a jeweler. This is almost always free.
The ring sizes we use correspond to the circumference of the finger in mm. You can measure this using a thread that you put around your finger and then measure the length with a ruler. (Row two of the table)
You can also determine your ring size by measuring the inner diameter of a ring (i.e. without the ring itself) that fits you well. Then you can convert it from row one to row two using our size chart.
°°°SHIPPING
The shipments within Germany are uninsured, if you want insurance you can add it to your order.
Shipments in the EU, the USA and all other regions of the world are automatically tracked and insured.
Moonstone ring with a round stone, playfully handmade
Sale price

$23.00
Regular price
Choose options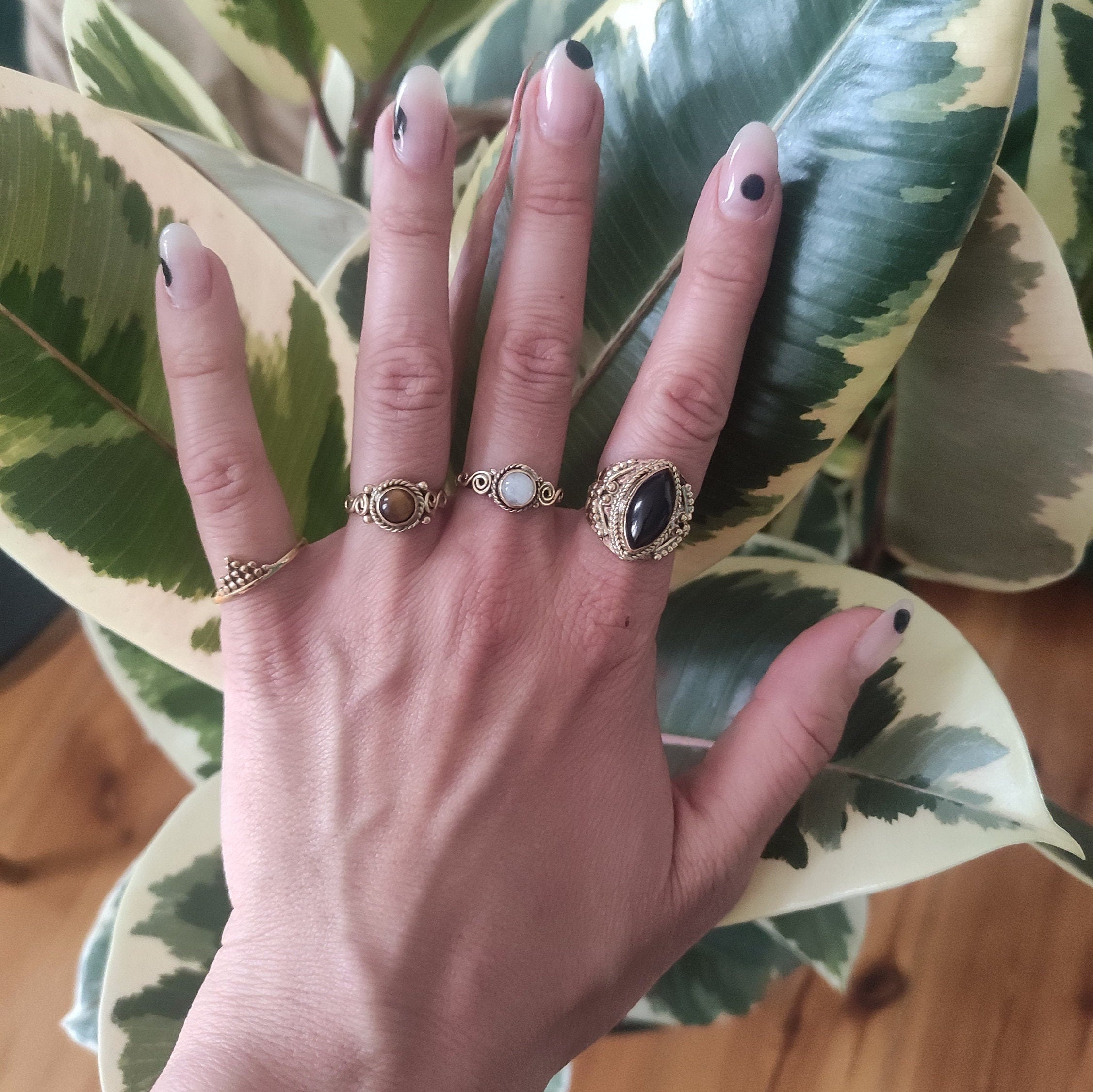 Leider färbt der Ring ab:(
Meine Schwester hat den Ring bestellt und mir geschenkt, weil er ihr nicht passt.
Leider hat er nach einer Stunde tragen meine Finger komplett grün gefärbt. Auch durch das bürsten mit Zahnpasta wurde es leider nicht besser.
This review has no content.
This review has no content.
Der Ring ist wirklich schön, aber leider l...
Der Ring ist wirklich schön, aber leider läuft er nach kürzester Zeit schon grün an.
This review has no content.
This review has no content.
This review has no content.
This review has no content.